Chris Comer and Rob Ervin have been Hüsker Dü fans since their days in college radio in the 1980s. Therefore they were quite
thrilled to talk to seminal post-punk rock icon Greg Norton,
former Hüsker Dü bass player. After 15 years out of the music
scene working as a restaurant chef, Greg Norton is in a new band with a jazz-punk edge, called The Gang Font Featuring Interloper.
In this interview Greg talks about what he's been doing since
Hüsker Dü broke up, whats up with new band The Gang Font Featuring Interloper, his restaurant "The Nortons" in Red Wing,
Minnesota, and of course his famous moustache.
http://www.myspace.com/gregnorton
http://www.myspace.com/thegangfontfeatinterloper
http://www.thenortonsrestaurant.com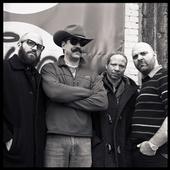 The Gang Font Featuring Interloper